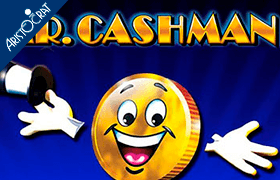 Mr. Cashman Pokie is a product of slots giant called Aristocrat. This monster has already shocked players with projects like Bank Rhino, Jailbird, Mystic Eyes and other good things. The project was launched in 2002 and got thousands of positive reviews from the players. The Mr. Cashman game is very popular among players, having received the marks of 4,5 and 5 from most of those who've already played it. Here you have 5 reels and 20 paylines. When the reels begin to spin, you will hear a gong that activates a multiplier for your potential prize. The bet varies from 0,2$ up to 20$, and the final reward can be as high as 6x multiplies.
There is no specific story behind the plot here. But it is worth noting that at the beginning of the game you get to visit its main character – Mr. Cashman. He is a kind of cartoon character that accompanies a user during the entire game process, gives them tips and often sends messages. In addition, there were several versions of Mr. Cashman pokie. In earlier versions, the character was simply a logo and a symbol. As technology has evolved, the game developer has made Mr. Cashman interactive to bring players more fun.
Game symbols & value
Mr. Cashman Pokie can be easily recognised among other games because of its symbol – the little happy-faced guy in a black suit who was mentioned above. Sometimes he will appear in a game session as the wild symbol, so you will be able to get a bigger prize. It can be some free spins, multipliers, re-spins, bonuses or additional credits. You just need to wait for the happy face to appear on your display.
During the game, you are to deal with the main game value – credits. These are certain amounts of money that you bet during the game. The purpose of betting is, of course, winning large sums. Nevertheless, you can easily understand your fortune – as soon as you get a line of identical game icons (no matter what they are), you hear a special winning melody. Winning combos, besides, are made of a number of game symbols. They are typical for the provider, including playing cards and some animal characters too:
ducks;
dogs;
lions;
zebras;
trees;
giraffes
and many others.
Playing cards here pay not that much as other symbols, but they let you get constant sums (30 coins minimum). Nevertheless, the slot features a number of special characters: scatter and wild symbols (Mr Cashman, diamonds and sunset). You desperately need to get them if you want to make the reward bigger. If you will collect these special symbols in a lucky spin, you will get a maximum reward, which is 1000 coins. Besides, the abovementioned special characters not only bring high wins, they open for you new bonus features that will be described soon.
Bonus features
Bonuses are probably the most interesting part for players, especially considering the Mr. Cashman Slot. The most popular bonus is 6x multiplier. As you understand from the title, it multiplies your reward. You should also know about Hold and Re-spin bonus. When it appears in the game, our main character simply freezes certain reels while other reels continue to spin in order to complete a winning combination. With this feature, you will have much more chances to claim a reward. The game has 4 levels of Jackpot prizes:
    Mighty Jackpot with 2 symbols
    Mega Jackpot with 5 symbols
    Jumbo Jackpot with 8 symbols
    Super Jackpot with 12 symbols
With Super Jackpot you can get the highest victory among other prizes (betting 75 credits can give you a potential 1500$ prize). Overall, there are 16 different prizes available for each player. However, to trigger the jackpot feature, you should land at least 5 bonus symbols on the reels. Then, you will be taken to a bonus round with the 5×5 grid. The principles are very simple – the more jackpot symbols you collect, the bigger jackpot you win.
How to play Mr. Cashman Pokie
The gameplay here is very comfortable on both PCs and mobile devices. You need to make a bet and spin the reels. Then, you should wait. If you have a bonus during your spins, it can increase your potential prize. However, if you lose the game, your bet will be reset. The game interface is very comfortable for players. From the first minutes of your gameplay, you will understand what to do and what buttons to use. The side buttons are made to spin the reels and choose the game lines. So if you are on your way to great wins in the casino world, it will be easy to profitably play the Mr. Cashman pokie.