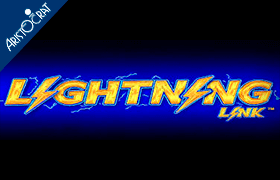 Lightning Link pokie is one of the most successful products of Aristocrat studio. The developers have done an incredible job by launching this title back in 2015. Since then, they have accomplished their mission of updating this game every once in a while. It is easy to find something new in this project, as developers are still working on new content for legendary Lightning Link. This slot machine has an iconic status among gamers and is well-known both in the USA and Europe.
There are a total of fifty paylines for the gamer to enjoy while playing Lightning Link. It's up to the player to choose what amount of lines will be comfortable for them. By using 1c and 2c games, you will be able to access fifty lines and in the case of 5c and 10c c games, you will play 25 lines. The number of bonuses in Lightning Link may vary, depending on the number of coins the player has used on playing the game. The main theme of the game depends on which one the gamer chooses while launching Lightning Link. It contains eight-game options. All of them share the same idea of representing the classic format of casino slot machines. The player can benefit from playing such games, like:
Happy Lantern;
Sahara Gold;
Magic Pearl;
Best Bet;
Heart Throb;
Tiki Fire;
Moon Race;
High Stakes.
All of them are interesting enough in their perspective, as they introduce the player to their world, full of wonder and mystery.
Game Symbols & Value
Lightning Link slot has a lot of reel symbols for the gamer to use. For some people, they may look like a challenge, but overall – it's not that hard to find these symbols in the game and use them to get the best overall results. There are different Lightning Link's symbols for every game represented in this product:
Happy Lantern: Turtles, lanterns, emperors, lucky cats, firecrackers, dragons;
Sahara Gold: dancers, pyramids, camels, oasis, palace, scorpions;
Magic Pearl: sea turtles, mermaids, starfish, dolphins, angelfish, pearl, treasure chest;
High Stakes: Las Vegas sign, golden briefcase, roulette wheel, royal flush, sports car, a girl, a couple of play cards, sports car, poker chips.
In Tiki Fire Slots and Heart Throb Slots, players of Lightning Link can also find a couple of reel symbols. For Tiki Fire, those symbols are a Tiki mask, a woman with a lei, a butterfly, and a parakeet. For Lightning Link's Heart Throb, reel symbols are a box of chocolates, diamonds, gift boxes, a dove and a red rose. All of Lightning Link's games share the same mega symbols. By triggering free spins round, three reels in the middle will unite and turn in one mega symbol. It will remain active for the next six free spins. It will enhance overall winnings and provide a good amount of cash for the player.
Bonus Features
Lightning Link is full of bonus features. To feel comfortable while playing all of the games, the player needs to activate the free spins bonus round. It is part of the mega symbol feature. The player needs to simply land three scatter symbols on the reel to activate the bonus round. In this round, the gamer will be able to receive six free spins. A big symbol will be represented on the reel number one. If it will be the same for the second, third and fourth reel, the player will receive 50 or 25 four of a kind win, depending on what Lightning Link's game the gamer has chosen. The user can also activate the hold & spin feature of Lightning Link's progressive jackpot bonus. It contains four types of jackpot:
Mini;
Minor;
Major;
Grand Jackpot.
To win the jackpot feature, the player will need to trigger 6-coin icons. With the help of this feature, the user will be able to retain Lightning Link coins even after a couple of spins. After collecting fifteen coins within the bonus game, it will be a perfect time to win the Grand Jackpot of Lightning Link. The rule is simple – bet as much as you can and the value of the coin will be larger.
How to play Lightning Link?
Lightning Link Pokie is created with the technically same design in mind, just like Cash Express Slots. There are two progressive jackpot features and a Hold & Spin feature. Despite the fact Lightning Link includes eight different games, all of them are created with the same formula. The interface is similar and an average player will have no problems with figuring out how to bet or see all credits in the bank. To change the minimum bet, the player just needs to access the games menu in the right corner of the main screen. It is possible to play this game on both mobile and desktop devices. If the user is not sure, Lightning Link can be tasted to understand whether interesting enough – there is a demo version of the slot machine. It will help to a glimpse look at how Lightning Link feels and then figure out if you are willing to play it in the future.